Opioid Prescribing for Dental Procedures, the Widespread Increase of Fentanyl Laced Drugs & Teen Stress will be Highlighted in PDFNJ's 2023 Messages.
PDFNJ 2023 Public Service Campaigns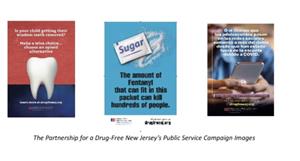 Washington, D.C., Jan. 31, 2023 (GLOBE NEWSWIRE) —  The Partnership for a Drug-Free New Jersey (PDFNJ) 2023 public service campaign is putting the focus on key issues facing New Jersey families— opioids, fentanyl and stress levels among teens that could lead to experimentation and substance use disorder.
The campaigns were unveiled today at the Community Anti-Drug Coalitions of America (CADCA) 33rd Annual National Leadership Forum being held on January 31, 2023, in conjunction with the U.S. Department of Health and Human Services, Substance Abuse and Mental Health Services Administration (SAMHSA) 19th Annual Prevention Day.
"The goal of the Partnership for a Drug-Free New Jersey's public service campaigns is to educate New Jersey residents about important topics that could be impacting their families," said Angelo Valente, Executive Director of PDFNJ. "For the coming year, we wanted to focus on these urgent subjects to raise awareness and hopefully save lives."
The Partnership for a Drug-Free New Jersey's Public Service Campaign Images
The first of the public service announcements raises awareness of opioid alternatives to treat pain for wisdom tooth surgery.  Dentists prescribe one in ten opioids in the United States and are the highest percentage of prescribers to children between 10 to 19 years of age.  A study of 12thgrade students followed through age 23 suggested that the use of prescribed opioids before high school graduation is independently associated with a 33% increase in the risk of future opioid misuse after high school among patients with little drug experience and who disapprove of illegal drug use
Another issue being tackled by PDFNJ is the widespread rise of the deadly synthetic opioid, fentanyl.  It is the number one cause of overdose deaths in the United States. Fentanyl is powerful and is 50 to 100 times more potent than morphine. Illegal street drugs containing fentanyl are on the rise and being produced as rainbow-colored pills targeted to teens.  Parents need to know that just a little bit of fentanyl is dangerous and experimentation is often deadly. 
The third public service campaign is reaching the Spanish-speaking community to educate families about a growing mental health crisis among adolescents who are overly stressed and depressed, which can lead to experimentation with drugs and alcohol. A report released by the United States Surgeon General warned of a growing mental health crisis among young people and the American Academy of Pediatrics, declared a national emergency in children's mental health. The PSA educates New Jersey families on measures they can take to ensure that these stressors don't lead to substance abuse or misuse. 
15 and: 30-second video public service announcements of the Wisdom Tooth campaign and the Fentanyl campaign PSAs, both produced by Concepts TV, can be viewed here.
All of PDFNJ's public service announcements can be found on New Jersey Transit buses, trains, PATH trains, bus shelters and billboards throughout the state.
###
Best known for its statewide anti-drug advertising campaign, the Partnership for a Drug-Free New Jersey is a private not-for-profit coalition of professionals from the communications, corporate and government communities whose collective mission is to reduce demand for illicit drugs in New Jersey through media communication. To date, more than $200 million in broadcast time and print space has been donated to the Partnership's New Jersey campaign, making it the largest public service advertising campaign in New Jersey's history. Since its inception, the Partnership has garnered 217 advertising and public relations awards from national, regional and statewide media organizations.
Attachment
PDFNJ 2023 Public Service Campaigns
CONTACT: Natalie Golub Partnership for a Drug-Free New Jersey 9733824560 [email protected] 

Disclaimer: The above press release comes to you under an arrangement with GlobeNewswire. Mango Bunch takes no editorial responsibility for the same.